If you're like me, you're so busy that packing for your vacation is done frantically the night before you leave. If you're not like this, and are one of those super organized sorts that have everything packed well ahead of your departure, don't bother to read on.
Packing for a trip can be a tricky thing. People usually fall into one of two categories—the under-packer or the over-packer. I'm not sure what's worse, but at least the under-packer can buy things when they arrive and not be weighed down with lots of unnecessary items.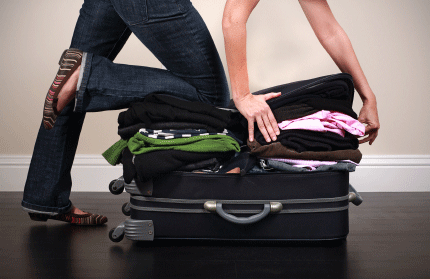 The trick is to have your clothing serve more than one purpose. Of course, what you bring depends on the climate and what you'll be doing. Packing for a beach vacation is very different than packing for a touring vacation where lots of walking is involved. Bringing a good comfortable pair of shoes is a must when you'll be doing lots of sightseeing. I once made the mistake of choosing fashion over comfort on a trip to Italy, and will never do that again. No one cares how pretty your feet look and there's nothing worse than sore, blistered feet.
Another mistake is to bring too many clothes. A sundress can be worn in the day while sightseeing and then jazzed up with jewelry and glitzy sandals for the evening. Men can get away with one pair of chinos and a couple different shirts that will transform the look for day or night. Two bathing suits are plenty. Limit your shoes to three pairs—one for comfort, one for evening, and sandals. When it comes to toiletries, bring small sample sizes rather than the big bottles. Most hotels have hairdryers, don't use up valuable suitcase real estate if you don't need to.
Traveling light is such a pleasure compared to lugging around a huge suitcase full of things you don't need and won't use. Not to mention the extra fees that airlines now charge for bags over their weight limits. Make sure you can actually carry around your luggage comfortably if you'e going to have to handle it yourself. A backpack is a great solution for the carry on items you want to have with you.
Remember to bring a spare pair of glasses or contacts and keep your medicines with you along with a list of all medications in case you misplace or lose any. If you bring electronic items, make sure to bring an adapter if you need one. Take at least two credit cards in case one is lost or eaten by an atm. Bring a sweater for the plane—they are very stingy now with blankets and pillows.
Try packing a few days before you leave when you are less stressed and can think more clearly. List making is always helpful beforehand. Keep a notepad next to your bed so when you think of something you want to bring you can jot it down.
Don't let last minute packing stress you out. With a little more effort, you will find you have everything you need and you'll be starting out on the right foot.
Our travel club sends out packing tips for all of our singles adventures so if you come with us we help make it easy!