If you're like me, you're so busy that packing for your vacation is done frantically the night before you leave. If you're not like this, and are one of those super organized sorts that have everything packed well ahead of your departure, don't bother to read on.
Packing for a trip can be a tricky thing. People usually fall into one of two categories—the under-packer or the over-packer. I'm not sure what's worse, but at least the under-packer can buy things when they arrive and not be weighed down with lots of unnecessary items.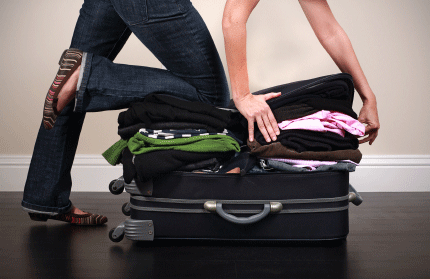 The trick is to have your clothing serve more than one purpose. Of course, what you bring depends on the climate and what you'll be doing. Packing for a beach vacation is very different than packing for a touring vacation where lots of walking is involved. Bringing a good comfortable pair of shoes is a must when you'll be doing lots of sightseeing. I once made the mistake of choosing fashion over comfort on a trip to Italy, and will never do that again. No one cares how pretty your feet look and there's nothing worse than sore, blistered feet.
Another mistake is to bring too many clothes. A sundress can be worn in the day while sightseeing and then jazzed up with jewelry and glitzy sandals for the evening. Men can get away with one pair of chinos and a couple different shirts that will transform the look for day or night. Two bathing suits are plenty. Limit your shoes to three pairs—one for comfort, one for evening, and sandals. When it comes to toiletries, bring small sample sizes rather than the big bottles. Most hotels have hairdryers, don't use up valuable suitcase real estate if you don't need to.
Traveling light is such a pleasure compared to lugging around a huge suitcase full of things you don't need and won't use. Not to mention the extra fees that airlines now charge for bags over their weight limits. Make sure you can actually carry around your luggage comfortably if you'e going to have to handle it yourself. A backpack is a great solution for the carry on items you want to have with you.
Remember to bring a spare pair of glasses or contacts and keep your medicines with you along with a list of all medications in case you misplace or lose any. If you bring electronic items, make sure to bring an adapter if you need one. Take at least two credit cards in case one is lost or eaten by an atm. Bring a sweater for the plane—they are very stingy now with blankets and pillows.
Try packing a few days before you leave when you are less stressed and can think more clearly. List making is always helpful beforehand. Keep a notepad next to your bed so when you think of something you want to bring you can jot it down.
Don't let last minute packing stress you out. With a little more effort, you will find you have everything you need and you'll be starting out on the right foot.
Our travel club sends out packing tips for all of our singles adventures so if you come with us we help make it easy!
Read More »
Yet another great article from one of our members. Check it out below and don't over pack on our

next trip!
It's true – I lay my shame before you dear reader but I am an over packer. If I take a weekend trip, I have enough to last me 4 or 5 days instead of two. I like choices. When I'm at home, I lay out clothes for the week. Instead of 5 outfits, I have 7 or 8 laid out. This is because I might wake up and look at those clothes and decide that I do not want to wear any of them. So I need an alternative, this is especially crucial when you are on a trip and do not have the luxury of your entire closet to choose an alternate from. I envy the type of woman who can throw a week worth of travel items into one small bag. Much like men, she usually requires no makeup, no hair products and looks cute when she's wrinkled.
I've pondered my packing list each and every time I've traveled. I aspire to streamline and lighten my load and somehow manage to still over pack, despite my best efforts. What are the essentials you say? Let's break it down for a sample trip with a reminder that this is for women who aren't gifted with that natural, wholesome beauty but need a little more work. I will use a recent 5 day trip to Texas to work this out.
3 pairs of shorts – weather was averaging 103-108 degrees, jeans and tennis shoes were not going to be popular.

4 tank tops – see above weather

1 tee shirt – I figured I wouldn't wear it most of the time just here and there, maybe for the plane ride home.

2 cute tops – for dinner out, dancing

2 pairs of sandals, one brown and one pretty silver (silver could alternate as cute shoes to cute tops)

1 sundress – in case I didn't feel like wearing the shorts or the cute top one day

Bathing suit – 2 tops, 2 bottoms (1 dries while you use the other)

Extra wear around anywhere shorts

Pajamas and essentials

1 pair of fuzzy warm comfy ankle socks

Wear jeans, top and sweater with slip on tennis shoes on the plane
Seems pretty straightforward so far right? Seems like a pretty small packing list that is manageable. This is where I have trouble though. I start to pick out the tops, and I see this one and say "Oh, this is such a cute top, I have to take this one." Then I spot another and go, "This would be really flattering and I might need this on such and such day" which leads me to pack a pair of flats that go better than the sandals do for that. Of course, being a woman, I have to now pack a couple more girlie items because the original one isn't going to work with all of the tops and the dress I have packed. I spy a couple of summer skirts hiding in my closet and it occurs to me that I may not feel like wearing shorts, but maybe a skirt instead. Why not, I think as I throw them in with the rest of the clothing, they won't take up much room.
Now – shampoo, conditioner, hair spray, hair smoother, hair clips, hair ties, shaving product, razor, facial wash, facial cream, tweezers, Q-tips, eye shadow (2 kinds), eye liner (brown and black), travel brush set, foundation, blush, mascara, contacts, case, solution, sunglasses, curling iron (in case I want to have some body), and flat iron (in case I am in a hurry or its too humid to hold a curl), brush, comb and cap for sun shielding.
When I'm done, my small lightweight packing case is neatly organized as I am prepared for a trip that is at least twice the length that I intend. This is a significant improvement to my previous attempts at light packing – as horrifying as it sounds I have truly made progress. (Please note, this is only my checked luggage listing – we haven't even gotten to the carry on). For a girl who survived in Europe for 5 days on 1 pair of chonies, 1 pair of pants and 2 shirts due to lost luggage you think I would have learned my lesson. Yet many years later, I still find myself at the end of a trip mentally noting how many items I never touched during my stay and vowing that the "next time" I would do better.
Read More »
Join Free at singlesbythebaytravel.com Singles by the Bay Travel Club goes on safari! Organizer Steve Juba goes over the essential
Read More »